OVERVIEW
Vieux Amis ("Old Friends") reunites three friends, neighbours and long-standing colleagues, to perform together for the first time in over 20 years. Violinist, Justine Cormack, cellist, James Bush, and pianist, Sarah Watkins, three of New Zealand's most accomplished musicians, have newly formed the trio, Vieux Amis.
The trio members all grew up together in Christchurch, in what must have been a crucible for talent. Justine and James lived across the road from each other, both learning music at the Christchurch School of Instrumental Music. There, as teenagers, Sarah and Justine first played chamber music together. The bond carried them into their careers—Sarah and James toured with CMNZ in 1996, and they first performed in this trio configuration in 1997. Justine and Sarah went on to work closely together as founding members of the NZTrio. James took a different tack, with his fascination of the freedom and energy of baroque performance practice leading him to work with many of Europe's top baroque orchestras and ensembles.
The original WMS concert  scheduled on the 22nd of August,  Les Voisins, was based on French music throughout the centuries.  This trio consisted of Justine and James with Simon Martyn-Ellis, the theorbo player. Simon is unable to leave Sydney. This has meant James and Justine needed to find a third player, and alter their programme.
Very fortuitously, and with the decision to  'make lemonade' out of their difficult circumstances,  'old friend' and top pianist, Sarah Watkins, was contacted and available. The new trio Vieux Amis was formed. Needless to say, they are thrilled to be back playing together for this very special CMNZ concert tour.
PROGRAMME
Vieux Amis will present a challenging and rich programme that marries their diverse areas of strong musicianship and flair, to produce a concert of vim and elegance. The first half will  focus on J.S.Bach and Arvo Pärt, followed by Shostakovich's muscular, invigorating second piano trio. A Shostakovich prelude and fugue stitch the two halves together.
ARVO PÄRT | Für Alina
JOHANN SEBASTIAN BACH | Viola da Gamba Sonata in D major, BWV 1028
ARVO PÄRT | mozart-adagio
JOHANN SEBASTIAN | Violin Sonata in E major, BWV 1016
—interval—
DMITRI SHOSTAKOVICH | Piano Trio no 2 in E minor, op 67
MUSICIAN BIOGRAPHIES
Justine McCormack is a soloist, chamber musician, guest-concertmaster and orchestral violinist. She was a founding member of NZTrio, playing from 2002–2017. Her notable orchestral career saw her appointed to NZSO Sub-Principal 1st-Violin in the 1990's, followed by Concertmaster of the Auckland Philharmonia from 2000–2004. She served as international juror for the first four Michael Hill International Violin Competitions. An active recording artist, Justine recently released Douglas Lilburn's Piano and Violin Duos with Michael Houstoun. During her time with NZTrio, their CD Sway won the 'Classical Artist of the Year' award in the 2017 Vodafone Music Awards.
A graduate of the University of Canterbury, Justine has a Masters degree from San Francisco Conservatory and a Doctoral degree from Stony Brook in New York. She has taught violin at Wellington's Victoria University and held a position as Violin Lecturer at The University of Auckland. Through her Creative Performance Coaching business ListenFeelPlay, Justine supports musicians worldwide to maximise their performance success and enjoyment through insightful mind+body awareness.
She plays on an 1868 J.B.Vuillaume violin.
James Bush (cello), winner of the TVNZ Young Musicians Competition and the National Concerto Competition of New Zealand, has performed as soloist with all of New Zealand's leading orchestras. He has worked regularly over the last 10 years with many of Europe's leading baroque orchestras including Akademie für Alte Musik Berlin, Concerto Köln and as principal cello of Al Ayre Español.
James has also collaborated over many years with renowned dance company Sasha Waltz and Guests, performing from the Bach cello suites in 50 performances worldwide of the work Gezeiten. He has performed on recordings that have been released by SONY, Harmonia Mundi, Winter & Winter and Challenge Classics.
He plays on an 1834 Auguste Sébastien Philippe Bernardel cello.
Sarah Watkins (piano) has a passion for accompaniment and chamber music that has led to an impressive career as a performer and recording artist. A founding member of NZTrio for 16 years, she now enjoys a wide variety of collaborations with musicians all over Aotearoa.
Official pianist for the Michael Hill International Violin Competition since its inception in 2001, and the Gisborne International Music Competition since 2008, Sarah regularly appears as a freelance player in the APO. In 2014 she recorded Chris Watson's SOUNZ Contemporary Award-winning "sing songs self" for solo piano and orchestra with the NZSO. Her numerous CD recordings with NZTrio and other artists have been widely praised by audiences and critics alike; 'Sway' (NZTrio, 2017) and 'Gung-ho' (2009, with trombonist David Bremner) were both winners of the Vodafone NZ Music Award for best Classical Album.
A graduate of the University of Canterbury, Sarah went on to earn MM and DMA degrees from Juilliard. She maintains an active private teaching practice and is on staff at the University of Auckland.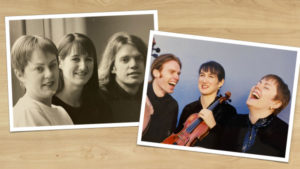 Then and now: Justine McCormack, violin; James Bush, cello; Sarah Watkins, piano.
Listen and watch